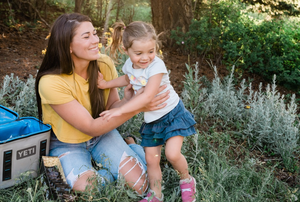 The Story of Starting - Part 5
OUR NAMING STORY
Creativity. I loved the idea of doing crafts, or following directions to make something from scratch, but lets be honest- majority of my projects I attempt can probably be found on an episode of Nailed It or #pinterestfails. 

 

What I have found is that I am not good at duplicating someone else's success. I have fallen in love with the process of creating from scratch. It is wild to think that it all starts with one ingredient, which leads to a recipe… then becoming a company in which the creativity you bring into it is endless! There will be many parts of this series about creating, and this one in Part 5 has to be one of the hardest things we had to create: Our Company Name.
Getting Kelly Jean Snacks set up as a company back in 2019 will always be a favorite memory. We had our product and we knew our why. What we didn't have… about everything else. lol There was no facility set up for production, we didn't have our food license or business license yet, and had no website/stores ready to go. Before all of these could come to fruition, we needed a company name. 
 James and I at the hanger in 2019.
(the airplane wing above our heads😆).
I will tell you- naming a company was one of the HARDEST steps, but it also took James and I all 40 weeks to pick our kid's names, and don't get me started on naming pets! What it came down to is that we wanted a name that reflected our why we started this company. 
The reasoning for creating a nutrition snack came from my own health stories and how it helped me heal and succeed in those health journeys. This product is more than a product- it carries the stories of not only mine, but those who are also seeking out how to live life to the fullest while feeling their best.
Pre-Kelly Jean Snacks, I was making all of our snacks from scratch at home. This snack would give everyone an opportunity for a quick, easy on-the-go snack that has the quality of a "made from your own kitchen" feel, just like you were in my kitchen and I offered you snack from my own fridge. This company will always have high-quality, clean ingredients that you will recognize, just like they were made in your own kitchen. I carry high value in integrity and honesty, which you will always find in Kelly Jean Snacks.
Last, but not least- it is the addition of "Jean" that means the most to me personally. Most of you know, Jean is my middle name and I go by just Kelly. I am named after my mom's middle name and it is also my daughter Avanah's middle name. That is why you will see a picture of my sweet girl at the beginning of this email. 🤍 While both my mom and my daughter are two of the most important people in my life, adding Jean to the name is my personal touch of honoring all of my family. It is why I started this company, and it is because of my family that I continue Kelly Jean Snacks. 
Thank you so much for following along with The Story of Starting! We appreciate you all so much!
Kelly
---