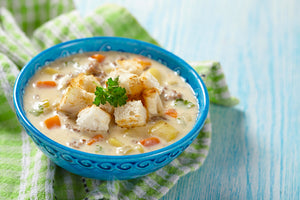 Cheeseburger Soup
If you've lost your appetite today, don't worry! I think I have it!
THE ORIGINAL CHEESEBURGER SOUP
Ingredients:
2 pound ground beef
2-4 cups potatoes, diced
1 medium size onion, chopped
1 cup shredded carrots (I've also used chopped and julienne)
½ cup diced celery
1 tsp garlic
2 tablespoons olive oil
4 cups chicken stock (Reserve ¼ cup for Step 6)
1 cup milk
½-1 cup shredded cheese
1 Tbsp tapioca or arrowroot powder (or all-purpose flour)
1 teaspoon salt
1/2 teaspoon pepper
Optional: 1 tsp of Basil and/or 1 tsp Parsley
Stovetop Instructions:
Brown the ground beef in a pot. Drain and set aside.
In the same pot 2T olive oil, onion and garlic. Saute until tender.
Add broth, diced potatoes, carrots, and celery. Bring to a boil. Reduce heat, cover and simmer for about 10 minutes or until potatoes are tender.
Add browned hamburger into the pot.
Using a fork and a small bowl, add 1 Tbsp of starch or flour to 1 cup of milk and dissolve the starch into the milk. Pour the mixture into the pot and slowly heat the soup on medium heat for 5 minutes.
Sprinkle shredded cheese and continuously stir to melt the cheese into the soup.
Stir in the salt and pepper. Serve!
---