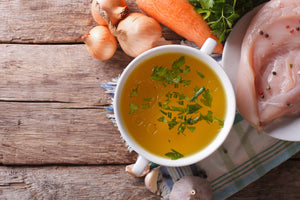 "Chose Your Adventure" Chicken Stock
There has been one staple in my lifestyle change years ago- bone/vegetable stocks! Stocks are so simple to make and are an easy way to add vitamins, minerals, and healing properties to your diet. My favorite is chicken stock and it is so simple to add to recipes, make soups, or store in the freezer! I make sure to save it in different sizes of plastic containers so that when I freeze the stock, I can take out specific amount that I am needing, such as 1 cup to sip on, 2 cups for adding to a recipe, and 4 cups for soups. The ways to use stock are endless and brings so much extra flavor; which is why my nickname for this recipe is "chose your adventure"!
Not only are you adding flavor to your recipes, there are so many additional health benefits to bone broth.
Minerals Found In Bone Stock
Bones are rich in minerals, vitamins, and nutrients; so once they are boiled in water, those nutrients are then released into the water.  By boiling connective tissue or vegetable scraps, you are also able to broaden the types of nutrients and natural compounds such as collagen. You will also be able to get the nutrients from bone marrow. These nutrients include:
calcium
magnesium
phosphorus
iron
vitamins A and K
fatty acids
zinc
manganese
Benefits of Bone Stock
Another benefit to look at is this is one of the easiest ways for our body to actually adsorb and utilize the nutrients! What is the importance and healing properties of these nutrients? They are know to:
-Gut healing and repairing properties
-Faster recovery from illness, infectious diseases, and chronic health conditions
-Promote joint, cartilage, and skin health
-Strengthen bones and teeth
-Liver support and cell detoxification
"CHOSE YOUR ADVENTURE" CHICKEN STOCK
Ingredients
-4-5lb Chicken
-Water
-1Tbsp Apple Cider Vinegar
-2tsp salt
-1tsp black pepper
Optional: Onion, garlic, carrots, celery, minced ginger, 1tsp ground turmeric, thyme, basil, bay leaf, rosemary, chicken feet(natural healing collagen).
Instructions
This recipe can be used for an Instapot or Stockpot. (See notes for timeframe of the Instapot)
Place chicken in the stockpot. The chicken can be raw whole chicken, pieces of chicken, or for best flavor use a roasted chicken.
Fill pot 3/4 full with water. Add apple cider vinegar, salt and pepper to help soften bones so the minerals get into the water to make a more nutritious stock. Cook on medium-high until bubbling, then reduce heat to low and allow to simmer, covered, 4-8 hours. When done, allow to cool then pour broth through a strainer. Remove the meat from the bones and set aside for another recipe or to put back into stock to make chicken soup.
Pour the stock, the "bigger" bones (leg, thigh, wing) that will be easy to remove, as well as optional herbs, spices, and vegetables back into the stockpot and refill if needed to ¾ full of water. Cook on medium for 1 hour. (If you aren't adding optional ingredients- use all the bones since it will be easy to strain and remove them)
Pour through strainer and remove bones. Transfer stock into mason jars and store in the fridge. Use the vegetables in another recipe, or add vegetables and chicken to preferred amount of stock and have chicken veggie soup. Salt and Pepper to taste.
Notes:
For a quicker process, use an Instapot. Use high pressure for 1 hour for step 3, as well as high pressure for 1 hour on step 4.
Use this chicken stock for Immune Boosting Stir Fry and Cheeseburger Soup!
Sources
Moskin J. Bones, Broth, Bliss. The New York Times website 2015:1. Available at: https://www.nytimes.com/2015/01/07/dining/bone-broth-evolves-from-prehistoric-food-to-paleo-drink.html. Accessed July 16, 2017.

Johnson, Jon. Medically reviewed by Katherine Marengo LDN, R.D."The Top 6 Bone Broth Benefits." Medical News Today, MediLexicon International, Jan. 2020, www.medicalnewstoday.com/articles/323903.

 Fallon, Sally, et al. Nourishing Traditions: The Cookbook That Challenges Politically Correct Nutrition and the Diet Dictocrats. NewTrends Publishing, Inc., 2005.
DISCLAIMER: This website does not provide medical advice. The information, including but not limited to, text, graphics, images and other material contained on this website are for informational purposes only. No material on this site is intended to be a substitute for professional medical advice, diagnosis or treatment. Always seek the advice of your physician or other qualified health care provider with any questions you may have regarding a medical condition or treatment and before undertaking a new health care regiment.
---