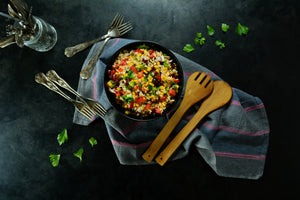 Cowboy Caviar
Anyone else have a hard time eating heated food in hot weather? I sure know I don't want to start the oven in the house when it's a 90-degree day! Cowboy Caviar hits the spot in the summer with its fresh, savory components; and it's presentation of abundant colors doesn't hurt too. This cold salad got it's name by being known as the "poor man's" version of true caviar, but there is nothing poor to it when it comes to nutrition and being packed-full of fresh vegetables. Did I mention this recipe is dairy-free, gluten-free, and a great option for plant-based protein?! Cowboy Caviar is my go-to recipe for potlucks, friend/family get together, camping, or just as a simple meal idea! Mix it up by using chips, sliced peppers, a side dish, as a topping to burgers/tacos, or just use a plain old spoon- and as always, enjoy!
Cowboy Caviar
Ingredients
1 can Black Beans, rinsed
1 can Corn (or 2 cups frozen corn)
2 Avocado, diced
2 cups Cherry Tomatoes, halved
¼ cup Red Onion, diced
¼ cup Fresh Cilantro, chopped (optional)
Optional Ingredients:
1 Red Bell Pepper, diced
1 can Black-Eyed Peas, rinsed
3 cups of Rice, pre-cooked
½ cup green onion
Dressing
1 Lemon, juiced (or 3 Tbsp lemon juice)
2 Tbsp Olive Oil
1 tsp Himalayan Pink Salt
1 tsp Cumin
½ tsp Black Pepper
Instructions
Prepare veggies as stated in ingredient list, add them all to a large bowl, and toss together.
Mix all the dressing ingredients together in a separate, small bowl.
Pour dressing over veggies in the large bowl- Serve and Enjoy!
---