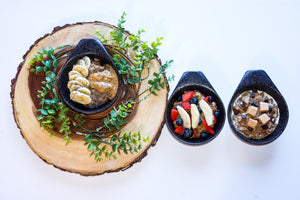 Every Morning Oatmeal
We became an egg-free home about two years ago. Before then, I didn't realize how much we relied on eggs in our diet! Not only did we give up cooking omelets for breakfast, but eggs were in a majority of my healthy recipes! After a ton of practice and adjusting all of our go-to recipes, it is barely a thought now that we are avoiding eggs. One of the best switches we made was to have oatmeal as a staple for breakfast and as a snack at home. It can seem monotonous to have oatmeal consistently, but not anymore- Every Morning Oatmeal coming at ya! It is one of our favorite recipes because of the option of versatility in flavors. I can make a big batch to feed the whole family, plus leftovers are easily put in the fridge and can be used throughout the week. Also, don't forget to add Kelly Jean Snacks on top to make Peanut Butter/Chocolate Oatmeal!
Every Morning Oatmeal
-2 cups rolled oats (Our favorite is Bob's Red Mill)
-3 ½ cups of water
-1 tsp salt
Yields: 8 servings
Instant Pot: Add all the ingredients to the Instant Pot. Place lid on and set it on the Porridge setting for 10 minutes. (I double this recipe so there is plenty for the week!)
Stovetop: Bring water to a boil. Add oats and reduce heat to a simmer. Cook for 6-10 minutes, stirring occasionally.
Optional:
Maple Brown Sugar: Add 1 tsp cinnamon, ¼ cup maple syrup, and ¼ cup brown sugar (optional) with the rest of the ingredients and proceed with the recipe.
Instant Pot Cinnamon Apple: Add 2 peeled and diced apples, ½ tsp cinnamon and ½ cup of maple syrup and proceed with the recipe.
Instant Pot Blueberry: 1 ½ cup fresh or frozen blueberries, 1 cup applesauce, ¼ cup maple syrup, 1 tsp vanilla, and 1 Tbsp butter (optional). Add into Instant Pot and proceed with the recipe.
With the Stovetop, I have found my favorite way to add flavor is with toppings. Here are some of my favorites:
Peanut Butter Chocolate: Add 2 Kelly Jean Snacks
Simply Sweet: Add 2 Tbsp of cream with 1 Tbsp Sugar
Nutty Nana: Slice 1 banana, 1 Tbsp of Peanut Butter, with optional addition of sprinkling 1 tsp of poppy seeds or chia seeds on top
Fruity Oatmeal: Add ½ cup of a fruit of your choice (Sliced Strawberries, Blueberries, Peaches, Raspberries)
Other Topping Options: 2 Tbps Honey, ½ cup Chopped Nuts (Pecan, Walnuts), 1 tsp Seeds (Poppy, Chia, Sunflower)

DISCLAIMER: This website does not provide medical advice. The information, including but not limited to, text, graphics, images and other material contained on this website are for informational purposes only. No material on this site is intended to be a substitute for professional medical advice, diagnosis or treatment. Always seek the advice of your physician or other qualified health care provider with any questions you may have regarding a medical condition or treatment and before undertaking a new health care regiment.
---