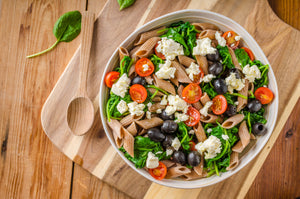 Greek Pasta Salad
"Can you bring a salad?"
My family and I currently live a state or two away from our immediate family.  When we come home for family holidays, they are kind to provide most of the meal. So, I'll ask how I can help with the holiday meal and consistently get the reply "Can you bring a salad?"
 Honestly, I can do the main dishes if it's necessary, but I'm a side-dish fanatic and it's where any kitchen talents I have lies. Come to think of it, I'm always in charge of the side dishes even if the meal is at a friend's home or even my own! 😆 My favorite green salads usually are a blend of bitter greens, fruit, a salty topping and a home-made dressing that is sweetened with honey/maple syrup (sound familiar? 😉). This year I want to switch it up! If you follow me on Instagram, you saw I made a pasta salad that's been such a quick and easy meal for my family this fall. This is a version of that recipe that I will convert to a side dish which will be perfectly paired with this year's Christmas prime rib steak. To make this recipe into a one-bowl meal, I will add more directions in the notes at the end of the recipe!
Side comment: if you've been following my recipe posts, you'll notice I have a really hard time committing to "one way" to make a recipe! Lol My philosophy is to never get stuck by following the guidelines; I encourage you to see my recipes as just that, a guideline into a meal you make your own. Design create and be curious: that's when phenomenal things happen! So, try this Greek Pasta Salad Recipe out and let me know what you think! Even better, tell me what you added to it while creating your own recipe! Happy Cooking!
Greek Pasta Salad
Ingredients
-8 oz rotini pasta (half a box/bag)
-10 oz greens of your choice, chopped (spring mix, spinach, arugula, kale)
- 1 cup cherry tomatoes, halved
- 1 can sliced black olives
- ¼ red onion, diced
- ½ cup feta cheese
Dressing
- ¼ cup olive oil
- ¼ cup lemon juice
- salt and pepper
Directions
Cook pasta as directed on the packaging. In a large bowl, add greens, tomatoes, olives, onion and feta cheese; mix. In a small bowl, mix together all the dressing ingredients. Once pasta is ready, add it to the large bowl and drizzle the dressing on top. Toss and Mix. Ready to serve!
Notes:
-
Favorite Gluten- Free Rotini Pasta
-Having warm pasta will wilt the greens a bit which makes this salad so unique to a regular "cold salad". With that said, this salad is perfect to store in the fridge and eat later.
-One Dish Meal:
         Ingredients
-16 oz rotini pasta (half a box/bag)
- 5 oz greens of your choice, chopped
- 1 cup cherry tomatoes, halved
- 1 can sliced black olives
- ¼ red onion, diced
- ½ cup feta cheese
-2lb chicken breast, sliced and cooked 
Dressing
- ¼ cup olive oil
- ¼ cup lemon juice
-salt and pepper
---