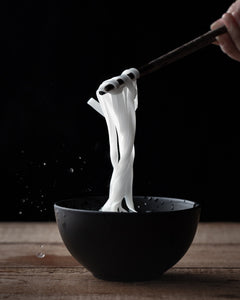 Immune Boosting Stir Fry
"Food isn't like medicine. It is our medicine,

and it's our number one tool for creating the

vibrant health we deserve."

-Mark Hyman, M.D.
As 2020 makes itself a year we will never forget, we are making so many memories with my family, which always includes tons of food! Growing up on a farm that was 30 miles away from the nearest store has become an advantage and prepared me on how to stock up on necessities. I will admit, I was not completely prepared and missed the memo to stock up on toilet paper! In this time of uncertainty, we must know what we can control and let go of the rest. We can buy all the household necessities, practice good hygiene, but there is something even more important to be preparing- our immune systems!
Sick of Soup
February was a long month for my household, as we all took our turns with becoming sick. We've had our fair share of hibernation and it continues for an uncertain amount of time as we ride out this season of social distancing.  While we were sick, I did my best in feeding my family nutrient dense foods that would help support our systems, reduce symptoms, as well as shorten the time span of being sick. There is nothing better than homemade chicken soup when you are sick. It is full of micronutrients that will boost your immune system, promote gut health, and fills that hunger for comfort when we are down in the dumps combating colds or the flu. But soup was starting to get boring and monotonous and after 3 weeks of soup, I was ready for a change. So, while we have this time that we all hunker down and take a step back from our normal routines-let's get out of the soup rut and get creative in the kitchen!
The Immune Boosting Lineup
-Ginger is a strong antioxidant, an anti-inflammatory, and a natural expectorant, which will help fight common respiratory problems. Some of the vitamins it contains are magnesium, chromium, iron, zinc, and calcium which all help to naturally boost the immune system.
-Garlic also has antioxidants that naturally boost the immune system. It also has properties that are antimicrobial and antiviral.
-Onions have high amounts of the flavonoid Quercetin. Used as a traditional medicinal herb, it is used as an anti-inflammatory, antiseptic, antispasmodic, diuretic, and an expectorant. It especially shows results in relieving congestion in the lungs and bronchial tract. It is important to cook onions as little as possible, ideally raw, to keep the health benefits.
-Honey has wonderful antibacterial properties. Research also shows that is a great treatment option for upper respiratory infections in kids by reducing coughing, especially during the night.
-Red Bell Peppers have three times more Vitamin C than an orange and also contains Vitamin A. Research shows that preventing and treating respiratory infections with large amounts of Vitamin C is well established.1
-Carrots are a great source of Vitamin A which has a major role in our immune system. It has anti-inflammatory properties, protects epithelium and mucus integrity, and functions in helping in the development and regulatory roles of the immune system.
-Mushrooms are best known for containing Vitamin D, Selenium (which boosts white blood cells), and Beta Glucans that activate our immune system to fight infections in our bodies. 
Immune Boosting Stir Fry
Veggies/Meat:
-2 lb. chicken breast (cut into 1-inch strips)
-1 diced onion
-4 cloves of garlic
-1 tsp minced ginger
-1 red bell pepper
-1 cup carrots (julienne or chopped)
-1 cup diced mushrooms
-salt and pepper as needed
-coconut oil
Stir Fry Sauce:
Bowl 1:
-1 tsp minced garlic
-1 tsp minced ginger
-3 Tbsp coconut aminos
-2 Tbsp rice vinegar (or 1 Tbsp rice vinegar + 1 Tbsp apple cider vinegar)
-2 Tbsp honey
-1 Tbsp lemon juice
Bowl 2:
-1 cup chicken stock
-1 Tbsp starch (corn starch, tapioca starch, or arrowroot)
Optional:
-Fettuccini
-Rice
-Rice Noodles
-Red Lentil Linguini (our family favorite)
Put one tablespoon of coconut oil to a large skillet or wok with medium high heat. Add cut chicken and season with salt and pepper. Cook for 3 to 5 minutes or until cooked through. Remove from skillet.
Reduce heat to low medium and add more oil if needed.
Add onion, red bell pepper, carrots, and mushrooms to the skillet. Cook veggies, stirring occasionally, just until crisp tender. Add ginger and garlic and cook for an additional minute.
Add chicken back into the skillet.
Whisk bowl one of stir fry sauce and pour over chicken and veggies. Stir gently to combine.
Whisk bowl two of stir fry sauce, pour over chicken and veggies, and bring to a boil, stirring occasionally, and let boil for one minute.
Serve with rice or noodle, if desired.
Notes:
-Add red pepper flakes or cayenne pepper for additional boost for the immune system in the stir fry sauce. (I opt out of this due to young kids)
-Try to keep the heat low as possible while cooking veggies to get the most health benefiting properties. As soon as the veggies show any tenderness or translucency is when I ideally finish cooking them.
Sources:
1. Saul, Andrew W. "Vitamin C Protects Against Coronavirus." Orthomolecular Medicine News Service, 26 Jan. 2020, drlauda.at/images/pdf/omns/Vitamin_C_Protects_Against_Coronavirus.pdf.
-Nantz, Meri P, et al. "Supplementation with Aged Garlic Extract Improves Both NK and Γδ-T Cell Function and Reduces the Severity of Cold and Flu Symptoms: A Randomized, Double-Blind, Placebo-Controlled Nutrition Intervention." Clinical Nutrition (Edinburgh, Scotland), U.S. National Library of Medicine, June 2012, www.ncbi.nlm.nih.gov/pubmed/22280901.
-Kumar, K. P. Sampath, and Debit Bhowmik. "Allium Cepa: A Traditional Medicinal Herb and Its Health Benefits." Journal of Chemical andPharmaceutical Research, vol. 2, no. 1, 2010, pp. 283–291.
-Kwakman, Paulus H S, et al. "How Honey Kills Bacteria."FASEB Journal : Official Publication of the Federation of American Societies for Experimental Biology, U.S. National Library of Medicine, July 2010, www.ncbi.nlm.nih.gov/pubmed/20228250?dopt=AbstractPlus&otool=inluvalib.
-Cohen, MD, Herman Avner, et al. "Effect of Honey on Nocturnal Cough and Sleep Quality: A Double-Blind, Randomized, Placebo-Controlled Study."PEDIATRICS, Sept. 2012, pediatrics.aappublications.org/content/pediatrics/early/2012/08/01/peds.2011-3075.full.pdf.
-Shah, Avani, and R. Krishnamurthy. "Swine Flu and Its Herbal Remedies."The IJES, 2013, www.theijes.com/papers/v2-i5/Part.1/H0251068078.pdf.
-Huang, Zhiyi, et al. "Role of Vitamin A in the Immune System."Journal of Clinical Medicine, MDPI, 6 Sept. 2018, www.ncbi.nlm.nih.gov/pmc/articles/PMC6162863/.

DISCLAIMER: This website does not provide medical advice. The information, including but not limited to, text, graphics, images and other material contained on this website are for informational purposes only. No material on this site is intended to be a substitute for professional medical advice, diagnosis or treatment. Always seek the advice of your physician or other qualified health care provider with any questions you may have regarding a medical condition or treatment and before undertaking a new health care regiment.
---