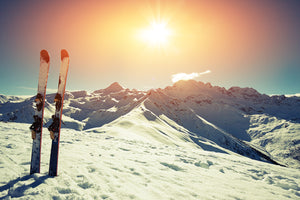 Sunshine to Snow Snacks Wherever You Go
There is nothing more disappointing than digging in your bag for that snack you packed to find it melted and you're unable to eat it. I'm also a fan of anything to do with snow, so when your snack earns you a trip to the dentist due to a hard-as-rock bite that chips your tooth (yes, this has happened to me), it can be infuriating. When you have high standards about your food, it can make it eating complicated when leaving your home and leave you feeling lost and frustrated on what to pack for food that would work for any climate while still not compromising your priorities on healthy foods. About three years ago, I was introduced to a snack that emphasized fat consumption. It was delicious and really hit the spot on what I was craving- but it didn't solve my problem quite yet because I needed something I could take outside of the house. I then started my pursuit to perfecting this snack by formulating more nutrition and make it more accessible for on-the-go. Now, the solution is here! We absolutely love enjoying our snacks as squares while frozen, refrigerated, room temperature, or even melted. Frozen Kelly Jean Snacks just hit the spot when you need a nutritious snack that will satisfy a sweet tooth while on the slopes skiing, or at 10 pm looking to grab a bedtime snack. Don't miss the magic though of when it does start to soften or melt- simply squeeze it directly into your mouth! Our softened product is the perfect solution while on long endurance runs or simply melted from the sun while on the beach! Here are a few extra ways to enjoy Kelly Jean Snacks:
Use as a dip for apples, or other fruit!
Allow the snack to get to room temperature, then squeeze it into a bowl or cup. Slice up your favorite fruit, (My favorite is apples!) and then simply dip the apple into the mix. You won't believe how delicious this healthy snack will taste!
Add it to your Oatmeal
Chop up a bar and toss it on top of any of your oatmeal. Blend it in and fuel your favorite breakfast bowl! 
Spread it on your Toast

You thought butter was the best toast addition? Just wait until you try Kelly's Snacks on toast! The yummy snack will spread across warm toast and you will think you are snacking on a dessert! 
The options are endless! Have you had a great experience with the versatility of our snack, or have a new way to add Kelly Jean Snacks to your other favorite foods? Use #kellyjeansnacks, tag @kellyjeansnacks in your photo , or email us at kelly@kellyjeansnacks.com so that we can feature you on our Instagram page! We can't wait to hear from you!

DISCLAIMER: This website does not provide medical advice. The information, including but not limited to, text, graphics, images and other material contained on this website are for informational purposes only. No material on this site is intended to be a substitute for professional medical advice, diagnosis or treatment. Always seek the advice of your physician or other qualified health care provider with any questions you may have regarding a medical condition or treatment and before undertaking a new health care regiment.
---