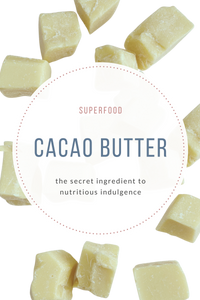 Superfood Spotlight: Cacao Butter
A little in-the-making of Kelly Jean Snacks story.

I have a sweet tooth. I always felt like it was my downfall of my health, energy, body acceptance, you name it- the sweet tooth was the problem! I had to really get serious about my what I was eating during my healing season of ulcerative colitis in my early 20s, which meant I felt like I was always at battle with myself to avoid foods that I craved. I was sick of feeling like I was falling off the wagon, and I knew I couldn't be alone in this struggle!

I first started using spoonfuls of peanut butter and honey as a way to avoid the junk at the convenient stores. It helped, but I would end up wanting to eat the whole jar, and if I ever left the house the temptations of junk were my only options. As I started to heal from my health conditions and started to go on more trips, there was an even bigger demand of needing something on the go as well as I wanted something that had more nutrition to keep my both fueled and satisfied.

 Ten years later, Kelly Jean Snacks was born out of the passion to help you find the answer to the struggle of finding the balance of cravings and keeping on track with your nutrition needs. We deserve the best of both worlds; to feel good and enjoy our food! Whether it was my healing journey, traveling/outdoors, weight loss pre/post kids, or having a snack my kids will choose over ice cream; this snack has been such a game changer.
PB/Honey on a spoon to Kelly Jean Snacks
Peanut butter and honey are pretty messy, and it only works if you are at home. I started to add ingredients to make a more usable treat that helped me become more satisfied so that it would help me feel full versus wanting to non-stop eat (or eat the whole pb jar!). It was so important that this snack would be an option to pack with us, so we started looking for ingredients to not only keep our snack more stable, and also kept in mind that the ingredient also needed to have purpose for nutrition.  
 Cacao butter is our knight in shining armor! It gives Kelly Jean Snacks the perfect smooth texture, added cocoa flavor, and gives our squares more form. But the best reason for adding cacao butter is the phenomenal health benefits you receive from it!
 What is Cacao Butter
I am obsessed with chocolate, so the minute I found out there was another portion of a cocoa bean to enjoy, I was sold!! Both chocolate and cacao butter come from the cocoa bean of the Theobroma Cacao Tree which is found in Central and South America. Cacao pods are split in half and the cacaco beans are then taken out, pressed to separate the fibrous solids (cocoa powder) and the fats: Cacao Butter. It is a pure extraction which means it keeps its natural nutrients!
3 Health Benefits of Cacao Butter
Since there is minimal processing to extract cacao butter, it keeps the massive health benefits intact! Kelly Jean Snacks uses a source of cacao butter that is also unrefined, non-deodorized to keep the nutrients and also has such a great flavor addition.
If reading these healthy benefits don't make you smile, we recommend sitting down and enjoying Kelly Jean Snacks because last but not least, cacao butter is known to boost neurotransmitters that release "feel good" hormones! This superfood ingredient really makes Kelly Jean Snacks incomparable by nutrients, smooth texture, and flavor. We can't stop obsessing over our high-quality ingredients!
Sources  
https://www.mdpi.com/2072-6643/6/8/3202/htm

https://www.medicalnewstoday.com/articles/270272#benefits

https://www.ncbi.nlm.nih.gov/pmc/articles/PMC5868762/

https://www.thewellnessway.com/cacao-butter-superfood/

https://clubchokolate.com/blogs/dark-chocolate-experience-blog/cacao-butter-health-benefits

https://readcacao.com/chocolate-and-health/cacao-butter-everything-you-need-to-know/
---