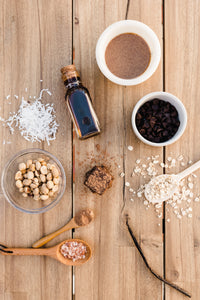 The Story of Starting - Part 2
The Snack Recipe Story
There are 2 types of people in this world: following the recipe, or just dumping ingredients in a bowl. The story of how the Kelly Jean Snack recipe came to be is a mix of both recipe and the curiosity to just dump in something new! 
The Love of Creating
I grew up on a ranch in northwest South Dakota, and as much as I loved working with animals, I was the first one to volunteer to head to the house to make lunch or sweet treats for everyone! I made chocolate chip cookies enough times that I still remember the recipe by heart. Don't be fooled though, I was not a natural baker. You can ask my parents how many times a bread dough recipe went wrong and had sticky, goopy paste implode all over the kitchen. (Sorry, mom!) As I got older, I forgot about the enjoyment I had in creating food and it wasn't until my appointment at the Mayo Clinic that I was recommended to get back into doing hobbies that brought me joy.
I started my healing journey not only by changing the foods I was eating, but also finding happiness with creating new meals that worked with my healing diet and tasted just as good as all the comfort food I had grown up eating. One of the foods I consistently had growing up was peanut butter honey sandwiches that my Dad made for me every morning for breakfast. Needless to say peanut butter and honey became a lifetime comfort food for me. When I had a craving for something sweet, I would take a spoonful of peanut butter and drizzle honey on top! This trick didn't really work well though since I was traveling a lot at the time and would find myself just grabbing something easy at stores, with the consequences of not feeling well. To be honest, there was not many options even in a grocery stores for a quick healthy snack, so it felt like I was always in the kitchen at home making everything we ate from scratch and packing it along.
My Friday night hobby while I was using foods to heal was researching new diet/lifestyles, on Pinterest searching new recipes, and learning what specific nutrition was needed to heal. I was learning a lot through the SCD, Paleo, and GAPS diet protocols to implement fats as a great way to help your body heal. (Check out this blog for more details on the benefit of fats) The keto diet was also just starting to make its mark and I was inspired with the ideas of "fat bombs"!  A spoon, jar of peanut butter and a container of honey was not convenient and by adding more healthy fats, I could make this treat into bite size portions and have them stored and ready to eat in the freezer!
Snackpreneur
It still wasn't a snack at this point that kept up with traveling. I also wanted more nutritional benefits from our snack. Just because it is a sweet treat, doesn't mean it couldn't be good for you and help you with your goals. This is the part of the story where I would just "dump" extra ingredients to our snack, giving it more balanced macros that mad the snack not only satisfying but also fueled us for outdoor adventures, pre/post workouts, and easier to have nutrition to take along. It still never crossed our mind before this point that James and I were making this "snack" and that we would later start a company to make it accessible for everyone. It wasn't until life got busier with jobs, kids, and being on the go more that we really saw a gap in the snack category and that there really needed to be more options for people to buy quick, healthy snacks! I was packing snacks in James's bag while he was snowmobiling, fly fishing, or camping and his friends would steal his snacks. I would have these snacks available at the house and they were such a simple solution for pre/post workouts and for sharing with kids instead of a candy bar! In 2019, James and I decided to start Kelly Jean Snacks!
First thing was to finalize our first flavor formula- Peanut Butter Chocolate Chip. It was so fun to try new combinations and see how new ingredients could change it up! I will tell you, it felt like I was back in my parent's kitchen trying to make a recipe work. Thankfully it was not quite as messy, but there were successes and failures along the way. We even hired food scientists to see if they could miraculously make this snack we envisioned. Unfortunately, the scientist route mostly cost us time and money. I will never forget getting samples of product from them to try and not being able to bite into them, there was no flavor, and even our son Liam ran and spit his sample in the garbage! Nothing is a failure though and we learned a few things along the way. Although I was a newbie to the food industry, it really was an empowering moment that we could trust ourselves and we made the perfect snack we envisioned on our own! Kelly Jean Snacks officially launched April2020 with Peanut Butter Chocolate Chip!
Now- you need more than one flavor, and we were brainstorming on all the flavors we wanted to add! The goal is for every flavor we add, there is a nutritional benefit and/or we use different ingredients so that people with allergy/lifestyle needs would have a flavor that they could have! I know through our experience, that was one of the hardest parts of having a quick, healthy snack was that I couldn't find some with a certain ingredient I couldn't have. Each flavor we make does follow the original recipe, then we start dumping and removing until we find our next flavor! No Bake Cookie was our second flavor we released, and we made sure to use a different nut butter (cashew butter) and knew it was important to make a dairy free/vegan option! Mocha Espresso has almond butter and we added coffee for those who need an easier to-go bar that provides a boost of energy. Dark Cocoa Loco is also a dairy free/vegan option which we utilize hemp hearts for the added protein! When we start formulating new flavors, we stay committed to our high-quality ingredients, having an incomparable texture, and they HAVE to be delicious! We continue to be aware of a health need in each new flavor in hopes you can find the flavor that works best for you! (A sneak peak of future ideas we would like to do is a nut free snack, have more dairy free options, having a chocolate free snack, utilizing different sweeteners, adding a line of bars with more protein...) Playing with recipes and being creative is one of my favorite parts of owning a food company, but hearing which flavor is your favorite and why tops that every time and lights up our hearts! Thank you so much for enjoying Kelly Jean Snacks!!
Last Note
If there's one main thing I've learned throughout making a snack formula is there's not a wrong way to do it; follow the recipe or wing it! It's about committing to the end goal and doing the work. And isn't that the truth on most things in life? Sometimes sticking to the "recipe" is how you miss out on surprising outcomes! I would also say without an idea of a path to the end goal, you will get lost. Either way, just remember to choose enjoying the process.
---